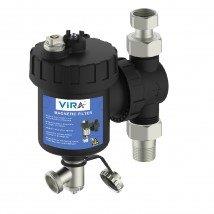 Detail
Filter is recommended for heating systems with all types of boilers condensing or conventional, combi or standard, wall-hang or floor standing. Filter can also be used with solar, cooling and other HVAC systems and for dosing chemicals to the system -like inhibitors.
Filter can be easily connected to pipework 1" /DN25 (or smaller diameter) which are horizontal or vertical . Next to the boiler or at some distance. The filter has a very durable housing and lid made from polyamide with glass fibre PA66 GF30
Magnetic sediments are captured by a strong 9,000Gs neodymium magnet. Such impurities in the heating system can cause seizing of pumps and valves, reducing heat release by radiators, blocking boiler heat exchanger.
Non-magnetic pollution is captured by an effective new generation ball type separator. Mineral deposit are sticking to tiny balls made with special surface. Contaminants of this type block the heat exchanger, clog the pipes, reduce system efficiency.
WHY SHOULD I INSTALL THE MAGNETIC FILTER?
Central heating radiators they are usually made of carbon steel, which is highly susceptible to corrosion. Steel pipes or cast iron radiators may also be present in the installation. Black magnetite is formed, which has a magnetic character and can therefore be captured with a magnet. If the magnetic filter does not collect these particles, they will go to the next device with electromagnetic properties; such as a circulation pump and will cause premature wear. They also get into other system components such as valves, heat exchangers, etc., causing them to clog and reduce the efficiency of the entire system. An additional built-in device function is a non-magnetic dirt separator. Contaminants of this type (so-called boiler scale) block heat exchangers, lead to boiler overheating, clog pipes, reduce heating efficiency.
| | | |
| --- | --- | --- |
| Pipe Layout | : | Vertical & Horizontal |
| Connection Spacing | : | 94 mm |
| Height / Width | : | 150 mm / 162 mm |
| Diameter of the housing | : | 99mm |
| Working Temp. Range | : | 0 - 90°C |
| Max. Working Pressure | : | 5 bar |
| Max. Glycol Concentration | : | 40% |
| Fitting | : | On the return of C.H, before boiler |
| Case Capacity | : | 500 ml |
| Material inner element | : | HDPE |
| Housing Material | : | PA66G30 , polyamide with 30% glass fiber |