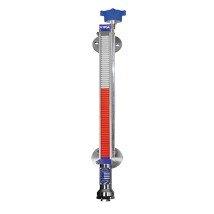 Detail
Vira Magnetic Level Gauges are a safe, economical way to measure liquid levels in boiler level application.
The body as bypass chamber is flanged to the side of a vessel, and as the liquid level in the tank rises or falls, a float with a built-in magnetic system inside the chamber rises or falls with it. The chamber is completely sealed so that the only moving part of the apparatus in contact with the liquid is the float itself.
Signal converter integrated with the level gauge converts the level output directly 0-10 V or 4-20 mA analouge signal. This signal can be used by automation system directly.
| | | |
| --- | --- | --- |
| Body and Float | : | Stainless Steel |
| Gauges Profile | : | Aluminium |
| Gauges Flaps | : | Fiber Glass Reinforced Plastic |
| Flanges | : | ST 37.2 Carbon Steel |
| Connection | : | Flanged/ DN 20 - PN 16 |
| Pressure Class | : | PN 10 - 16 |
| Max. Working Temp. | : | 200 °C |